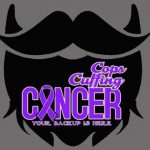 The follicle fight is finally over, and voting is officially open for the 2019 Cops Cuffing Cancer Campaign.
Throughout the month of November, local law enforcement and Vincennes firefighters participated in No Shave November in an attempt to raise awareness and money to fight cancer.
"Before" photos were taken on November 1st and were posted to the Cops Cuffing Cancer Facebook Page. Now, "After" photos are posted for each participant as well. Whoever can get the most 'likes' on their photo will be crowned the Cops Cuffing Cancer Champion.
All throughout the campaign, officers were raising funds, with all collected money being split between the Good Samaritan Cancer Center and the family of Jaclyn Ray, whose husband Adam is a local firefighter.
To vote for your favorite officer or firefighter, and to see the whole gallery of before and after photos, you can visit the Cops Cuffing Cancer page on Facebook.