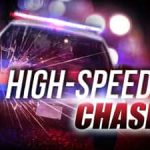 A weekend police chase ended with one man behind bars.
A stolen vehicle was reported to Vincennes Police on Friday evening last week. Later that night, the vehicle, an older model red GMC Sonoma, was reportedly involved in a pursuit in Lawrence County, Illinois. That pursuit was terminated in Vincennes.
A pair of police pursuits took place on Saturday, with the first being abandoned in the early morning hour due to unsafe weather conditions. The second ended after law enforcement chased the vehicle through the county, before the driver lost control and slid into a field, before finally becoming stuck.
Police say the male driver, identified as 27-year-old John Koonce of Bridgeport, Illinois, tried to run from the scene, but was apprehended by officers. Officers say a female passenger was compliant. No one was injured throughout the incident.
Further investigation revealed there were warrants out for Koonce's arrest. He now faces new charges of Auto Theft, Resisting Law Enforcement, Resisting Law Enforcement with a vehicle, Aggressive Driving and Reckless Driving.
Assisting Vincennes Police were Indiana State Police and the Knox County Sheriff's Department.