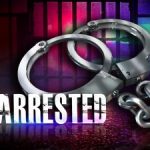 A routine traffic stop lead to the arrest of a man on drug and gun charges over the Holiday weekend.
Vincennes Police pulled over 38-year-old Michael Gibson at the intersection of 13th and Main. According to VPD, Gibson previously had history as a suspended driver.
A search of Gibson's vehicle led to the discovery of two firearms, including one that was stolen, 20 grams of suspected Methamphetamine and 10 grams of suspected Heroin.
Gibson was taken into custody, and now faces charges of Possession of Firearm by Serious Violent Felon, Possession of Stolen Property, Possession of Methamphetamine, Possession of Narcotic Drug, Possession of Marijuana, Possession of Controlled Substance and Driving While Suspended.