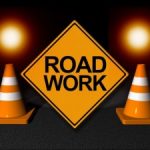 Road work in the city of Vincennes is about to move onto its next phase.
City Engineer John Sprague says work on curb ramps in the city is 100% complete, and paving operations are scheduled for the end of the month.
As part of the project, a number of city streets will receive a new layer of asphalt to make traveling the city a smoother ride for the public.