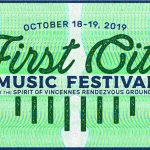 We're just over a week away from the inaugural First City Music Festival.
The event is described as a team of like-minded, music-loving volunteers coming together to celebrate the art.
Event Organizer Nash Dunn called the acts a celebration of "American Roots music." He says they will aim to highlight some local musicians during the festival as well.
The First City Music Festival is set to take place on October 18th and 19th at the Vincennes Rendezvous grounds.
For more information on the First City Music Festival, or to stay up to date on the full rundown of performers, you can visit firstcitymusicfestival.com.