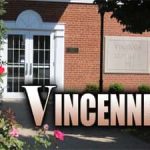 A local pit bull will be euthanized after he is said to have bitten a girl in Chicago Park.
The Vincennes Board of Works voted to uphold that ruling after an administrative appeal at City Hall last night.
The Board took time to hear from officials on the scene the day of the alleged incident, the victim in question and the family that owns the dog – a pi
t bull names Axil – during the appeal last night. Emotions ran high as the events of July 30th were recounted for the Board, but ultimately, they voted to stay in line with city ordinance. That ordinance says, any animal that bites a human should be euthanized.
In an attempt to spare their dog's life, Axil's owners offered to take him out of the city, and even the state. But as Vincennes Mayor Joe Yochum explains, that wouldn't be the right thing to do for those other communities.
All three members of the board stated there was no doubt the care Axil's had for their dog, but they are tasked with upholding the safety of the Vincennes community.
No timetable was set last night for the dog's euthanization.