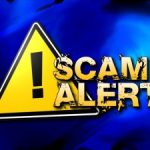 State Police from Terre Haute to Evansville are warning the public about Social Security phone scam.
Police says they have received a number of reports of scammers using the identification of Social Security Administration, stating that there are issues with your social security number.
ISP say you can't always rely on your caller ID to correctly identify a caller, and if you don't recognize a number – don't answer.
Additionally, as a reminder, you should never give out personal information such as date of birth, social security number, or credit card number.