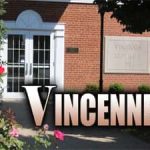 The Vincennes City Council last night appropriated $100,000 for work on the Washington Avenue project.
Mayor Joe Yochum stated the money is to pay for preliminary design work which is necessary prior to letting the project out for bid.
The work isn't expected to get underway for at least 3-more years and will include new road paving, storm and sanitary sewer upgrades along with new curbs, sidewalks and street lighting.
The money for the design comes from the city's edit funds.
Yochum says 80% of the funding is reimbursable through a grant the city received from the Indiana Department of Transportation for the road make over.