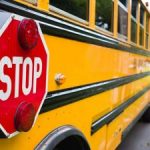 A number of measures have been taken at the state level to keep children safe while boarding and riding a school bus. Locally, the North Knox School Corporation is seeing those measures pay off.
It's been one week since North Knox students returned to the classroom. The new school year brought with it not only some new equipment, but a new bus route that prevents students from crossing a highway to board their school bus.
Each bus in the North Knox School Corporation now has a camera attached to its stop arm, that helps to apprehend motorists who choose to disregard the command to stop.
North Knox Transportation Director Allyson Bowers explains how that process works.
In the first week of school alone, Bowers says bus drivers have encountered six stop arm violators. Tickets have been issues to each of those drivers.