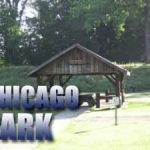 A local group is hoping to bring the community together to clean up a city park.
The group "Recovery" has announced a Clean Up Day at Chicago Park on Sunday, September 8th, and are seeking volunteers. Rain or shine, Recovery will spearhead the effort to spruce up the north side park from 9:00 a.m. to 2:00 p.m. Also as part of the Clean Up Day, a 'thank you' cook out will take place starting at Noon.
For more information on the Clean Up Day event, or to find out how you can get involved, you can call 618-707-9177 or e-mail trinacameron.2015@gmail.com.