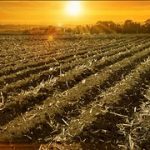 Dry weather last week allowed Hoosier farmers to make progress planting their crops, but this season still lags far behind previous ones.
According the United States Department of Agriculture, 67 percent of Indiana's corn crop was in the ground as of June 9.  That compares with nearly all at this time last year.
Purdue University professor Bob Nielson estimates there are about 2 million unplanted acres of corn left across the state and soybeans also lag far behind previous years.
Farmers say planting corn anytime after June first is risky.