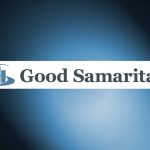 Good Samaritan has formed a new Patient and Family Engagement Council to assist the hospital with issues related to patient care and service.
The council is made up of 10 community members who applied to be apart of the fact-finding board during an application period earlier in the year.
Hospital President and CEO, Rob McLin says the council will provide Good Samaritan with an outside perspective that will help the hospital continue improving the care they provide to the community.
Good Samaritan Foundation Director, Gary Hackney, lead the group as the co-chair for the hospital. Becky Blagrave was elected as the council's community member co-chair.